"With love, E" is the salutation that Elvis sometimes used to sign a personal letter.
It is also the name of one of the top Elvis Presley tribute shows anywhere. This full production show features some of the world's top Elvis tribute artists, the All Star Band and the Divine Sensations background singers. Shows can also feature the Superstar Dancers. Add former Elvis Presley bodyguard Sonny West and tour manager/photographer Ed Bonja for an inside and personal pre-show. The show takes the audience on a musical journey from his early rockabilly beginnings to his Movie Years, 68 Comeback Special, Las Vegas and Aloha from Hawaii complete with authentic costumes.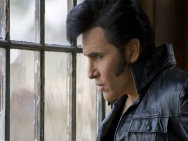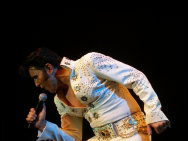 Harry

Harry
Harry
Harry-State Farm Commercial
Kevin
Kevin
Kevin
Sonny West-Elvis Bodyguard
Ed Bonja-Elvis Photographer
With Love, "E"
A Tribute to Elvis